The weather has certainly taken a turn with considerably colder days and darker evenings. With it comes an array of tasty seasonal vegetables and winter-warming recipes to enjoy at this time of year.
I'll be writing about a few of my favourite foods at this time of year and easy ways you can keep the calories down in home cooked winter recipes over Christmas and the New Year.
What's in season?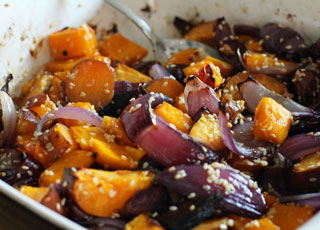 Firstly, I understand Brussels Sprouts can have a bit of a Marmite appeal (probably gearing towards the hated side) so I'll be sure not to mention them!  It's the root vegetables that become plentiful at this time of year and my favourites include those from the potato and squash families.
Roasted root veggies taste great at this time of year and go really well with chicken in my opinion. A great combination is Butternut Squash, Sweet Potato and Red Onions (all roughly chopped) and roasted in the oven for about 40 minutes, then sprinkled with sesame seeds to finish off.  To keep the recipe healthy, I recommend using a low calorie oil spray instead of oil. Cut the vegetables reasonably small so the veg will cook quicker and stir regularly.
As for the chicken, I've started to poach it in a whole in a pan of simmering water. It takes approximately 1 hour for a small one but be sure to check it's cooked through before eating.  Poaching is great because it keeps the chicken lovely and moist, avoiding the need to baste it with oil or juices.  Another benefit is the meat falls off the bone when you come to serve it – A God send if your butchering skills aren't great (like mine)!
Stews
When it's cold outside there's nothing better than a hearty stew to tuck into.  Casserole beef tends to be a cheaper cut of meat so needs to be cooked slowly.  My tip when making stews is to start by making the casserole beef "sweat" over a low heat on the hob (making sure the meat does not brown).  This will allow the fats from the beef to seep out of the meat and into the pan.  Remove the meat and use the juices to fry your onions, garlic, veg etc in before returning the meat back to the pan to brown. You can't taste the difference and it save using oil which comes in at about 14g fat per tablespoon.
For more calorie counted winter warmer recipes, search Members Recipes when you log into your Nutracheck account.  If you are new to the service, you can start a 5 day free trial to check out our recipes.
Have a great Christmas and New Year!